The Power of Autonomous Mobile Robots can revolutionize your operation.
Download the free guide to learn everything you need to know about The Conveyco Stacker-Bot.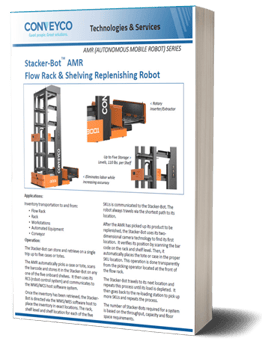 If you work in the materials handling or order fulfillment industry, then the chances are good that you are constantly on the lookout for ways to increase the efficiency of your warehouse or distribution center.

Incorporating the Stacker-Bot or other types of autonomous mobile robots (AMRs) or automation technology into your warehouse can help your bottom line.
By Downloading our Stacker-Bot fact sheet, you will learn about:
AMR Applications
Unit Specifications
Motion Performance
Executing Structure/Rack Parameters
Download our fact sheet and see if a Stacker-Bot is right for your operation.