In-House Fulfillment Strategies to Help You Scale Your E-commerce Operation
Everything You Need to Choose the Right Strategy for Your Operation
To say that order fulfillment is an important part of any modern e-commerce business would be an understatement. Order fulfillment is all about getting your product where it needs to be—in the hands of your customers—as cheaply,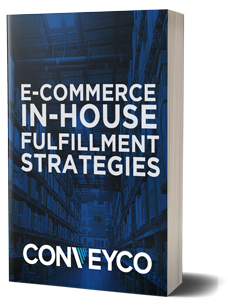 efficiently, and fast as possible, and that makes it an integral piece of the logistics puzzle. This is especially important for burgeoning e-commerce businesses who are beginning to expand.
Identifying the right distribution model now, while your operation is in its earlier stages, will allow you to build a supply and distribution chain that meets your current as well as your future projected needs. And that reduces the risk that you'll need an expensive and disruptive overhaul of your operation as volumes and complexity grow.
Because understanding your options is so important, we've pulled together this guide looking at some of the most common issues faced by various types of modern e-commerce businesses, as well as the different technologies and strategies that you can use to make sure you stay competitive in today's constantly changing e-commerce landscape.
By downloading this guide, you'll learn:
The steps you should take before you select an order fulfillment strategy
The types of order fulfillment strategies that are relevant to your e-commerce operation: Direct-to-customer shipping, Using Stores as Distribution Nodes, and Omni-Channel
Additional order fulfillment strategies such as dropshipping and 3PL
The importance of understanding all of your options so that you can choose the most appropriate order fulfillment strategy for your operation
Download this eBook and start planning your new order fulfillment strategy today.