Process Garments & Apparel Faster with a Garment-on-Hanger (GOH) Sortation System
Download this free guide to learn more about how the Garment-on-Hanger Sortation System offered by Conveyco can make your operation more efficient.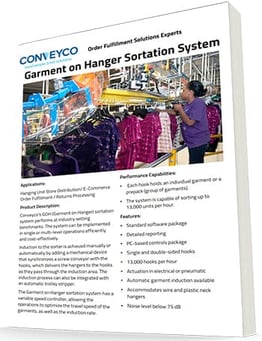 Whether your operation is focused on ecommerce order fulfillment, store distribution, or returns processing, a garment-on-hanger (GOH) sortation system can help you process and handle apparel more quickly and efficiently, reducing labor costs and improving order accuracy at the same time.
Our GOH system performs at industry-setting benchmarks. The system can be implemented in single- or multi-level operations efficiently and cost-effectively. The GOH sortation system has a variable speed controller, allowing the operations to optimize the travel speed of the garments, as well as the induction rate.
By downloading this PDF, you'll learn about:
How garment-on-hanger sortation works
The unique performance capabilities and features of our system
The benefits of garment-on-hanger sortation for your operation
And more
Download our fact sheet to gain a better understanding of how garment-on-hanger sortation can help your order fulfillment operation become more productive and profitable.