Augmented Vision Technologies Help Make Order Picking, Replenishment, Put Walls and Receiving Applications More Productive
Download this free guide to learn how Augmented Vision technologies can improve your efficiencies.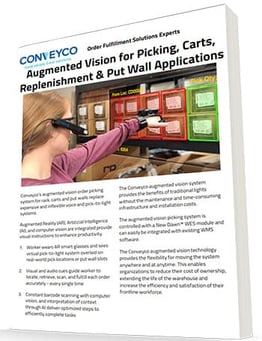 Augmented vision, also known as augmented reality, offers warehouses, distribution centers, and other order fulfillment operations an efficient and cost-effective means to improve productivity and accuracy while reducing labor costs. It does this by providing workers with visual guidance that helps them work smarter and faster.
Augmented vision is the next logical step in the evolution of pick-to-light, pick-to-voice and RFID scanning systems. In fact, it brings together the best of all of those technologies, while avoiding many of the limiting factors which make them less than ideal.
By downloading this PDF, you'll learn about:
How augmented vision can be leveraged in an order fulfillment setting
The different applications augmented vision can support
The many features and benefits of the technology
Download our fact sheet to better understand the role that augmented vision can play in giving your operation an advantage over your competitors!