The Warehouse Manager's Guide to Autonomous Mobile Robots
How order fulfillment operations can leverage AMRs for improved efficiency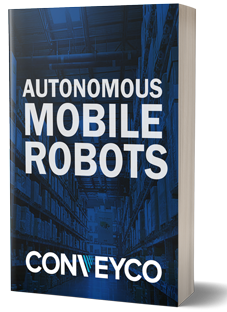 The past few decades have brought monumental changes to the world of order fulfillment and material handling. From rising
labor costs to a shrinking pool of qualified workers to increased pressure of next, same day, and two hour delivery—today's order fulfillment operations have a lot of new challenges to conquer.
Embracing new technologies, processes, and procedures has always been an important piece of the puzzle for distribution operations, who must regularly modernize and adapt in order to remain competitive and profitable in this new reality.

One such emerging technology that is already reshaping the order fulfillment landscape is autonomous mobile robots, or AMRs. These robotic units are the next evolution in autonomous equipment, offering operations a pathway towards increased efficiency, lower labor costs, and improved profitability.

By downloading this guide, you'll learn about:
The different types and applications of AMRs in order fulfillment
Specific use cases for the technology in your operation
How AMRs compare against AGVs
Cost factors, justification, and ROI
The future of AMR and robotic technology
Download this eBook and start planning your new order fulfillment strategy today.